Map Library Collections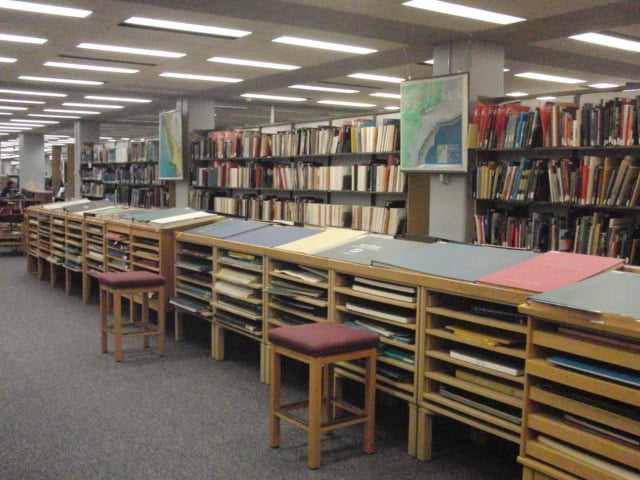 Atlases & Books
Atlases and related books are located in the shelving along the northern border of the Dr. Mary T. Dooley Map Library. Atlases and books circulate with the same loan periods as books in the General Collection unless marked with a "For Reference" sticker on the inside book cover. Oversized Atlases are on display on the maps island parallel to the shelf. Typically, oversized atlases do not circulate due to size and fragility.
Aerial Photos
The aerial photograph collections cover many parts of the State, with an emphasis on South Central Minnesota. Some photo sets date back to the 1930s and all are available to be checked out. For more information about our physical , including a unique collection from Minnesota Department of Transportation. The Library has digitized two unique air photo sets of the Mankato area: 1959 set , and 1967 set.
Map Collection
The collections include maps of all kinds. The largest portion is made up of the US Geological Survey 7.5 Minute Topographical Maps. The Library has coverage for the entire United States with only a few exceptions. Most maps can be checked out. Learn more .
Soil Surveys & Plat Books
Soil surveys are available for most counties in Minnesota and many in Iowa, North Dakota, South Dakota, and Wisconsin.
The Library also has a collection of Minnesota plat books. Plat books can be searched in the online library card catalog using the keywords "plat book" followed by the county name. Soil surveys can be checked out.
Travel Guides
The Library maintains a collection of travel guides to various destinations around the world. Like many materials in the Dr. Mary T. Dooley Map Library, these are available to be checked out. Students are encouraged to use these books while considering study abroad or other educational travel. While the Library has guides from multiple publishers, Lonely Planet guides are kept reasonably up to date.