Marilyn J. Lass Center for Minnesota Studies
The Marilyn J. Lass Center for Minnesota Studies is a collection of materials related to Minnesota, with special emphasis on the South Central Minnesota region. The Lass Center contains books, periodicals, state documents, and maps, relating to the people and places of Minnesota.
The Marilyn J. Lass Center is located on the second floor of the Memorial Library and is designated as a quiet study area. The Center is open the same hours as the rest of the second floor of the Library.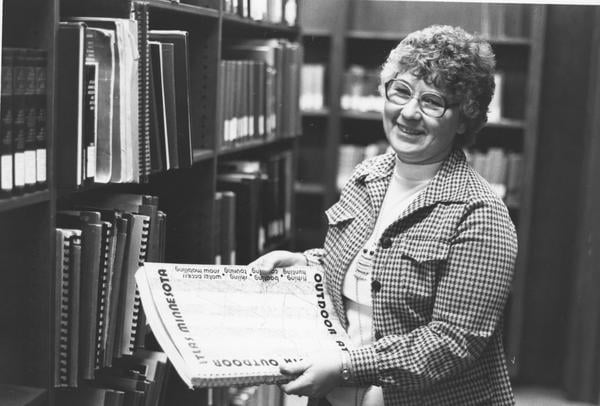 Marilyn J. Lass was a dedicated librarian whose love of research and history led to the preservation and development of a unique collection of materials, which is now known as the Marilyn J. Lass Center for Minnesota Studies.
Full Story +
Show Less –
Marilyn started her career at Minnesota State University, Mankato as a bibliographer and circulation aide, but her role quickly expanded. The Center for Minnesota Studies was her creation, and it had its beginnings as a special collection in the reference area of Memorial Library in 1961. The stated goal of the new center was to collect items related to Minnesota history and other disciplines.
Marilyn's responsibilities included developing the collection and instructing the students in using the Center for Minnesota Studies. She worked diligently on making the materials more accessible through special indexes and finding aids.
In 1969, the Center for Minnesota Studies became a regional manuscript repository in cooperation with the Minnesota Historical Society. Through this process, Marilyn became an expert in archival procedures and manuscripts processing. She taught courses in the processing of manuscripts and came to be regarded as one of the leading authorities on Minnesota documents of all kinds.
Marilyn was a scholar as well as a librarian. She graduated from the University of South Dakota with a degree in Social Studies in 1955. She then went on to receive her library media degree at Mankato State College in 1972, and completed her Specialist degree in Curriculum and Instruction/History in 1979.
In her lifetime, Marilyn J. Lass authored a number of different publications, including Minnesota State Documents: A Guide for Depository Libraries. She wrote entertaining, informational short stories about Minnesota history for a radio program called "Insights and Outlooks." She also contributed biographical sketches for a book on Wisconsin's famous families, wrote book reviews for numerous periodicals, and indexed and prepared maps for her husband's books on Minnesota and American frontier history. Marilyn also represented the Library and the University on many campus and statewide committees. She was a member of many historical associations, including the Minnesota Historical Society.
Marilyn was a devoted and hardworking librarian who was highly esteemed by her colleagues. In dedicating the Center to her name, Kathy Piehl, a fellow librarian said: "The center we rename in Marilyn's honor represents a work that she loved doing. . . . Such research might take time and require thought, but would also bring satisfaction. She could help people aim for knowledge, not mere information. . . . Now this place can provide us with a reminder that life and work can be enriched with courage and devotion."